Ideas For Number Plates
Struggling to find that perfect plate? We have some ideas below how to chose your private number plate. You may be looking for a number plate for your name, make or model of car or may be just for investment; Plate Hunter can help.
This page should give you some useful help in deciding on what mark is right for you. Below are some examples in both Prefix and current style. Happy Hunting!

| | |
| --- | --- |
| M17 JNM | March 17th (Date of Birth) Jason Neil Moore |
| J4 STH | James South |
| T5 AJP | Tim , Sam and children: Adam, Jon, Peter |
| JAO5 CKK | Mr Jack Kaye |
| X40 APC | Kiss, 40th birthday, Andrew Phillip Casemore |
| T999 JMS | Tim James in the Emergency Services |
| JD05 CPD | Mr James Davidson and Mrs Claire P Davidson |

SWAPPING NUMBERS FOR LETTERS ON PLATES
When buying a cherished number plate it is good to remember that some letters look like numbers.
Below is a table which displays these letters and numbers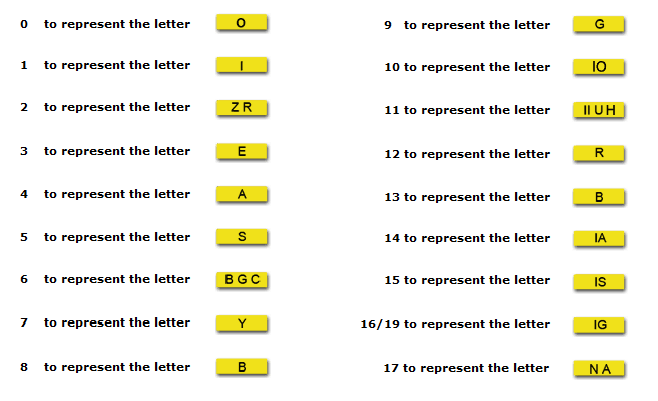 Personalised number plates can reveal things about car owners, including their personalities and interests. Having a personalised number plate that reflects who you are can be a creative way to flaunt your personality. Ideas for personalised number plates are wide and varied but with a little imagination and creativity you can find something that suits your taste.
Funny Messages
Number plates can carry funny messages intended to elicit a laugh or a smile when people see them. Ideas for funny number plate messages you can order include number plates that indicate despair or exclamation, such "Yl MEE," "AAH," "AHA," or "WOW." Other amusing number plate messages can display greetings or farewells, such as "H1," "BYE," or "6 BYE" or simpler fun messages, such as "BOO," or "POOH."
Names or Nicknames
Number plates can spell out your name or nicknames or those of the people you love. Ideas for number plates that spell names can come in forms such as "J3 NNY" if your name is Jennifer, "J4 MES" standing for James," and "M4 NDY" for Mandy. Other ideas for registration number plates with names or nicknames include "DVD" or "DAV" for David, "D3 AN?" for Deanna or Dena and "DEB" for Deborah. You may need to shorten your name a little and include a letter or two of your surname to create the personalised number plate yourself.
Jobs and Interests
Number plates can be created to show your job, career or business.
Ideas for number plates
showing your work include "P11 AYS," indicating you are an actor or playwright, "ADS," indicating you are an advertiser and "TAX" indicating you are an accountant. Other ideas for number plates can showcase favourite interests and hobbies, such as "USA," or "N3 WJY," depicting interests in nations or States, "FLY" or "SKY," indicating interests in aeroplanes or flying and "C4 SHS," pointing to your interest in money.
Car Makes and Models
Number plates may also be used to connect your car with its make and model or display interests in automobiles, such as luxury motorbikes and sports cars. Ideas for connecting your car with its make or model include using plate numbers such as "4 LFA," representing Alfa Romeo if your car is an Alfa Romeo, "AUD" if your car is an Audi or "BMW" if your car is a BMW. You may also display interests in luxury car makes and models with number plates, such as "BEN," representing a Bentley car, "N3 ONS" representing a Chrysler and "JAG," representing a Jaguar. Number plates that connect makes and models of vehicles can be an innovative mode of expression, especially for car enthusiasts.

Are you still having difficulty in finding your perfect plate? Give us a call on 01952 588888 or click CONTACT US.